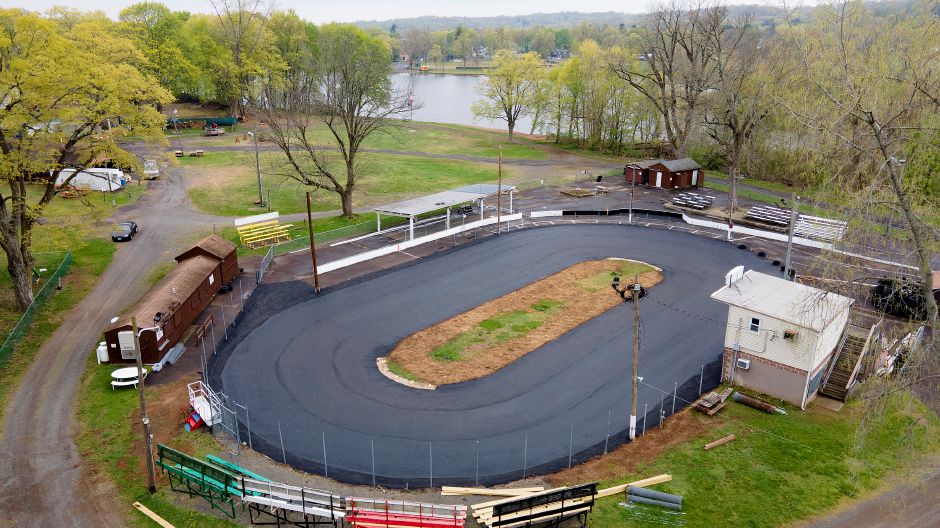 MERIDEN — A donation from NASCAR racing star Joey Logano is helping fund improvements to the South Meriden race track where Logano, a Middletown native, competed in his formative years.
The 2018 NASCAR Cup champion has pledged to pay for the re-grading and asphalt resurfacing of the Silver City Quarter Midget Club racetrack. It's the first such work done on the track since 1975, said Mary Trapp, the club's secretary.
Logano, NASCAR driver Ryan Preece and World of Outlaws racer David Gravel are alumni of the club's quarter-mile track on Hanover Avenue, making the big time after racing in Meriden for a few years in the 1990s. The donation occurred after Logano's father, Tom Logano, was approached to see if the Joey Logano Foundation would donate to the facility upgrade, which is ongoing.
"It feels very surreal that this is actually happening. We've been trying to get this done for years," Trapp said Thursday. "This isn't something we could ever have done on our own. We have been saving and doing as many fundraisers as we can, so this is huge. They are saving the day. This track will be here for a long time now."
Trapp called Logano's generosity "monumental." A detailed accounting of all the donations to the project isn't available, but it will cost at least $85,000, Trapp said.
Logano funded the work done on the track by LaRosa Construction Co. Inc., of Meriden, which charged a reduced rate. An array of donations of time or money is totally revitalizing the facility. Tilcon-Connecticut of New Britain and L. Suzio York Hill donated tons of asphalt. LaRosa also installed an underground conduit for the site's utility lines. Manafort Brothers Inc., of Plainville, donated the re-milling of the track's asphalt, Trapp said.
The donation isn't Logano's first act of generosity with Silver City. Logano mentioned his and Preece's racing at Silver City when they were kids in a post-race interview at the Daytona 500 in 2019. Logano finished fourth; Preece was eighth that year.
The track was in dire need of a repaving. Arute Brothers Inc. last laid a layer of asphalt on the track in 1975, when Trapp's father, Joe Nowakowski, was the club's president. The club had used quick-fix asphalt kits to patch the track surface, but still had to pull weeds from its cracks prior to races, said Wendi Cordova, the club's president.
The work might have been done last year but for coronavirus, Trapp said. The track, which was built in 1959, gets a lot of use during the club's racing season, which typically runs from April to October.
A quarter midget car is a one-fourth scale version of an actual midget racer. The cars are built around a tubular frame and unlike go karts have a full suspension, according to www.quartermidgets.org. The cars can reach speeds of around 45 mph.
Frontline Electric of Monroe is donating its time finishing the wiring work at the track. The club needs to re-install the fencing around the track. Anyone interested in helping the club finish that job can contact Trapp at silvercitysecretary@gmail.com
MyRecordJournal.com | By Nick Sambides Jr., Record-Journal Staff | April 30, 2021 at 4:30 P.M.