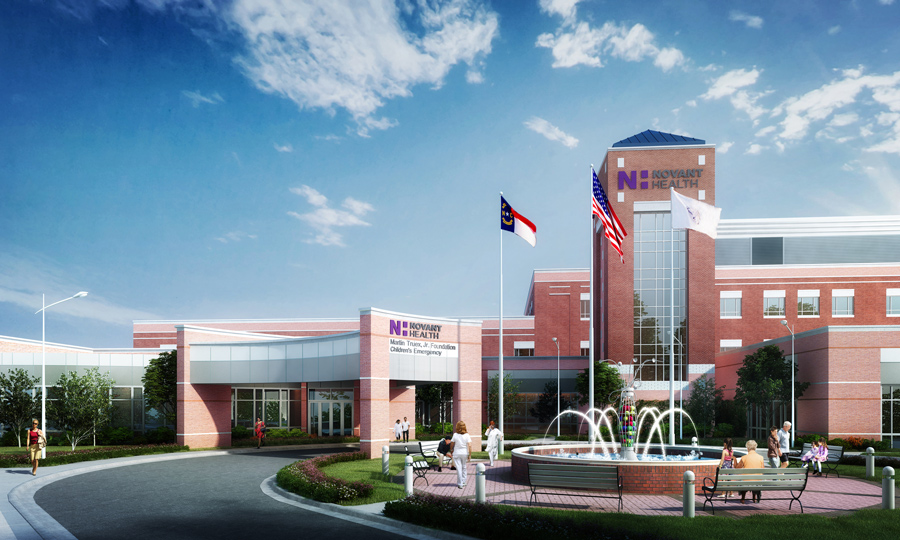 Novant Health and Martin Truex Jr. Foundation team up to improve access to emergency pediatric care
CHARLOTTE, N.C. (Oct. 8, 2021) – To better meet the needs of a fast-growing community, Novant Health, Martin Truex Jr. and Sherry Pollex today broke ground on a 5,000-square-foot children's emergency services center within Novant Health Huntersville Medical Center. This $2.4 million investment will bring specialized emergency care to thousands of children and teens in the Lake Norman and Huntersville area who currently have limited access to, and choice of, nearby services.
"None of this would be possible without the diligent work of the Novant Health Foundation and our partnership with the Martin Truex Jr. Foundation. We're thrilled to see this space come to life," said Mike Riley, president and chief operating officer of Novant Health Huntersville Medical Center. "It's important for children to be treated by physicians trained in pediatric emergency care in an environment designed with kids in mind. Our tiniest residents should have access to this specialized care close to home."
The new child-friendly emergency services space will include nine private treatment rooms, a triage room, advanced medical equipment specifically designed to treat children, a family consultation room, a treatment room for minor emergencies and sleep chairs for late-night emergencies. The space will also have a NASCAR-themed family-friendly waiting room with specialized artwork using bold colors, blurred speed images and dynamic designs at eye level with the height of children. The artwork will bring a sense of driver recognition and connection to a space that can be frightening to most children.
"We are excited to finally have the groundbreaking ceremony for the Martin Truex Jr. Foundation children's emergency department in Huntersville," said Martin Truex Jr. "There is a real need for pediatric emergency care in the Lake Norman area and we are fortunate to have the support of many donors and the NASCAR community to make this dream a reality."
The Martin Truex Jr. Foundation Children's Emergency Services center will be open 24 hours a day, seven days a week and staffed with physicians and nurses who specialize in caring for children and teens. This includes a full-time child life specialist to better meet the needs of our smallest patients. Child life specialists work to reduce stress and trauma in clinical settings for children and their families. Stress and trauma can affect the development, health and well-being of children and can affect family members as well.
"Our donors are the backbone of this community and every project that we do at the Novant Health Foundation," said Ann Caulkins, senior vice president of Novant Health and president of Novant Health Foundation. "Expanding our longstanding partnership with Martin Truex Jr. and Sherry Pollex is a testament of their deep commitment to the community they call home."
In addition to the principal gift made by the Martin Truex Jr. Foundation to the Novant Health Presbyterian Medical Center Foundation, other top donors include Auto-Owners Insurance, Ryan Blaney Family Foundation, Brad Keselowski's Checkered Flag Foundation, Vincent, Lisa and Vinnie Dailey, Gene Haas Foundation, Joe Gibbs Racing, Denny Hamlin Foundation, Daniel and Traci Hughes, Kasey Kahne Foundation, Haven Kiley Foundation, Dennis and Mary Lehman, Joey Logano Foundation, Metrolina Greenhouses, Evernham Family-Racing for a Reason Foundation, Tyler Reddick, Sokal Media Group, James R. Vannoy & Sons Construction Co. Inc., Jerry & Frances Warsky Foundation.
Novant Health Huntersville Medical Center Martin Truex Jr. Foundation Children's Emergency Services is set to open in the second quarter of 2022.
About Novant Health
Novant Health is an integrated network of physician clinics, outpatient facilities and hospitals that delivers a seamless and convenient healthcare experience to communities in North Carolina, South Carolina, and Georgia. The Novant Health network consists of more than 2,300 physicians and over 35,000 employees who provide care at nearly 800 locations, including 15 hospitals and hundreds of outpatient facilities and physician clinics. In 2021, Novant Health was the highest-ranking healthcare system in North Carolina to be included on Forbes' Best Employers for Diversity list. Diversity MBA Magazine has also included Novant Health on its 2020 list of "Best Places for Women & Diverse Managers to Work." In 2020, Novant Health provided more than $1.02 billion in community benefit, including financial assistance and services.
For more information, please visit our website at NovantHealth.org. You can also follow us on Twitter and Facebook.
###
Novant Health | October 8, 2021 at 5:06 P.M.