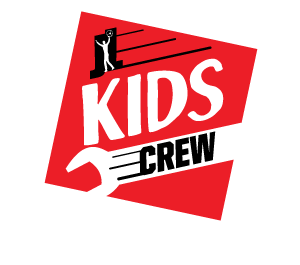 Every year, this exciting program invites a few select children going through tough situations to have a one-on-one special day with Joey at a NASCAR Cup Series Race. The kids get to meet Joey, get up close and personal with his race car and sometimes even walk on stage with Joey during drivers' introductions. Additional items in this package include a Joey Logano matching fire suit, customized JL Kids Crew apparel, autographed Joey Logano toys, Team JL merchandise and a commemorative JL Kids Crew program certificate.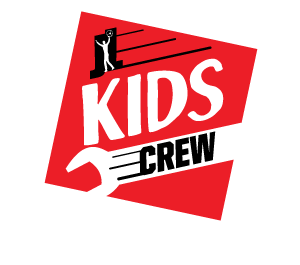 Every year, this exciting program invites a few select children going through tough situations to have a one-on-one special day with Joey at a NASCAR Cup Series Race. The kids get to meet Joey, get up close and personal with his race car and sometimes even walk on stage with Joey during drivers' introductions. Additional items in this package include a Joey Logano matching fire suit, customized JL Kids Crew apparel, autographed Joey Logano toys, Team JL merchandise and a commemorative JL Kids Crew program certificate.
Cameron
Cameron was our first ever JL Kids Crew member. He lives with hydrocephalus, cerebral palsy and severe vision impairment. As a Dream On 3 recipient, Cameron's dream was to meet his favorite NASCAR driver, Joey Logano. Cameron loves NASCAR and got to spend a special day with Joey at the 2017 Spring race at Bristol Motor Speedway.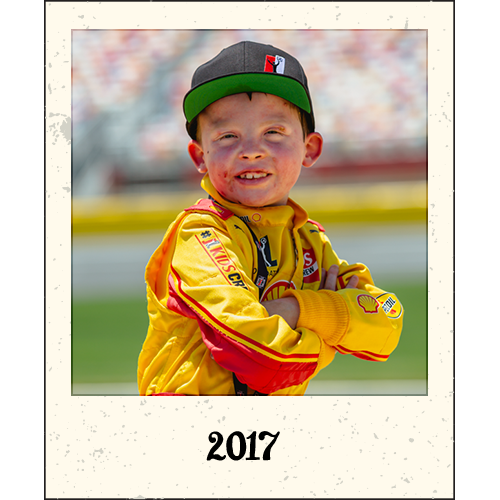 Jonah
Jonah has a rare genetic condition called Epidermolysis Bullosa that causes fragile, blistering skin. He met Joey after appearing on the daytime talk show "The Doctors." Jonah counts his day at the All-Star race as one of the best days of his life. Since then, he has been to Clutch Studios twice to see Joey's cars and has sat in on one of Joey's autograph signing events. As an avid car lover, he and Joey formed a special bond.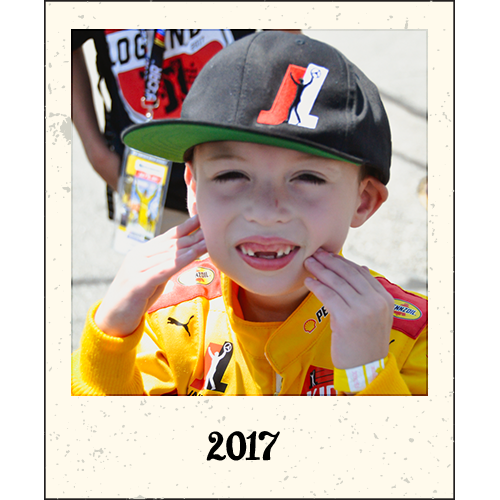 Nicholas
At six months old, Nicholas was diagnosed with infantile spasms. He had 60+ seizures a day for about two and a half years straight. Thankfully, his epilepsy has been under control now for over 6 years. He also lives with cerebral palsy and has a very limited vocabulary. Despite all this, Nicholas can clearly say "Joey" while cheering on his favorite driver during a race. Nicholas' parents say he still lights up when looking at pictures from his special day at the New Hampshire race.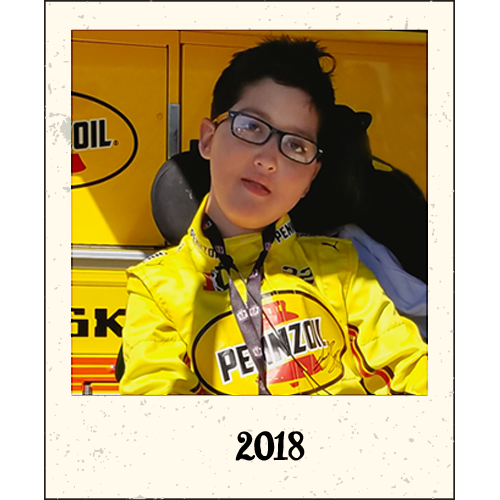 Julio
Julio lives with muscular dystrophy. Over the years, this progressive disease takes a toll on his flexibility. Due to this, Julio spends most of his time at home where he enjoys watching NASCAR races and Joey's YouTube channel. As a top academic student with an infectiously positive spirit, Julio made his mark on the JL Kids Crew when he met Joey at a 2018 Cup race in Las Vegas.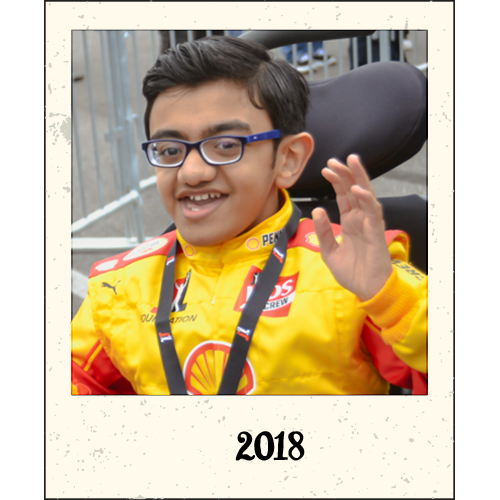 Sparsh
Sparsh was born with Osteogenesis Imperfecta, a disease which causes bones to be extremely fragile – even a hard handshake can cause damage. Sparsh loves to sing and inspire others to be the best version of themselves through his social media channels and performances at various events. At Pocono Raceway, Sparsh met Joey and Brittany, and sang a sweet lullaby to baby Hudson. He also performed at the Joey Logano Foundation's 2019 annual fundraising event.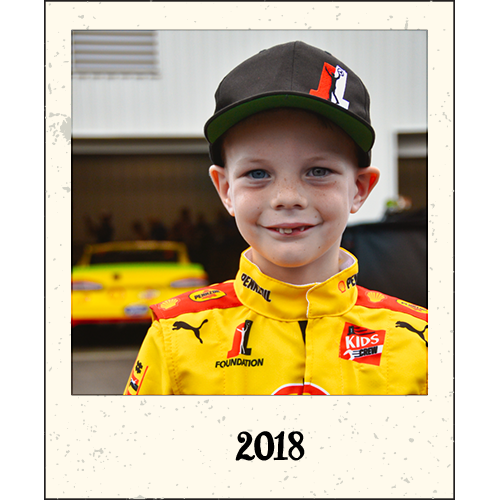 Gavin
Living with autism, Gavin found his voice at the age of 3 after becoming fixated on the number 22. He loves watching Joey race and finding the number 22 in everyday life - on street signs, price tags, even playing for a travel soccer league with a #22 jersey. This quickly became Gavin's gateway to reading and as his mom points out, "gave him the extra confidence to be able to talk to and meet new people." Gavin loved signing autographs and being a part of Joey's pit crew on race day at Richmond.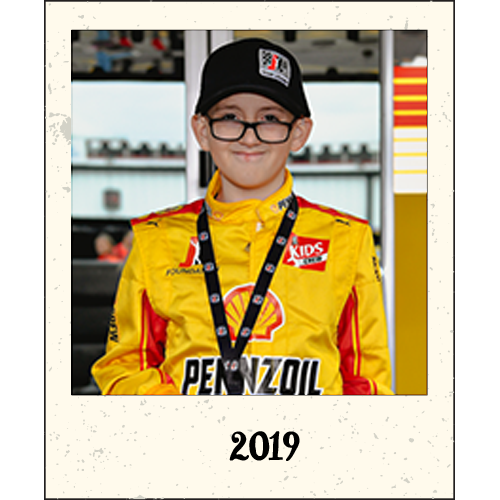 Alex
Alex lives with the daily obstacles of being autistic and deaf. His Dad recently passed away and Alex continues to tell his family how thankful he is that his Dad was there to share the JL Kids Crew experience with him at Pocono. Alex especially loved seeing the NASCAR garage at track and getting to sit in Joey's race car. Alex says his favorite part of the day was the one-on one time with Joey touring his hauler and seeing his trophies.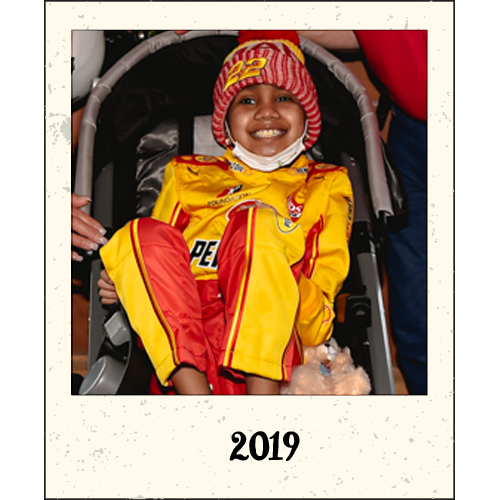 Faith
Faith was diagnosed with a Supratentorial Peripheral Neuroectodermal Brain Tumor in November of 2017. She underwent surgery, intensive radiation and very aggressive chemotherapy treatments. Through it all, she kept an amazing attitude and fought hard until the end. Unfortunately, Faith wasn't well enough to attend the Daytona race, but was able to meet Joey and Brittany at the Homestead-Miami shopping event in 2018 and 2019. She was such a bright light to us all and will be dearly missed.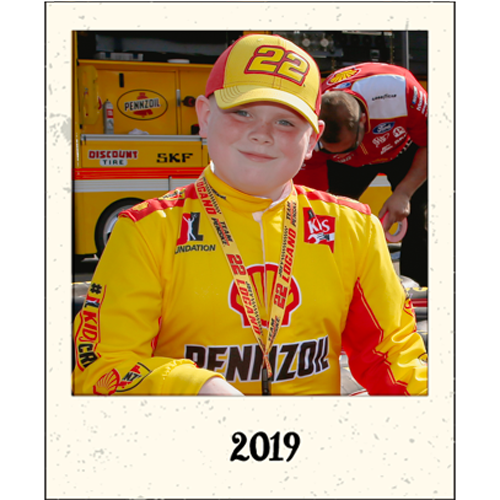 William
William is an avid NASCAR fan and Joey Logano has always been his favorite driver. Unfortunately, William's Dad passed away when he was 11 years old. Watching races was one of their favorite joint hobbies. Despite the struggles, William continues to persevere with a positive attitude and dedication to his education. He loved going to the drivers meeting at Richmond with Joey and continues to cheer for him on race day. About his experience, William said "I had the time of my life, one I will always remember!"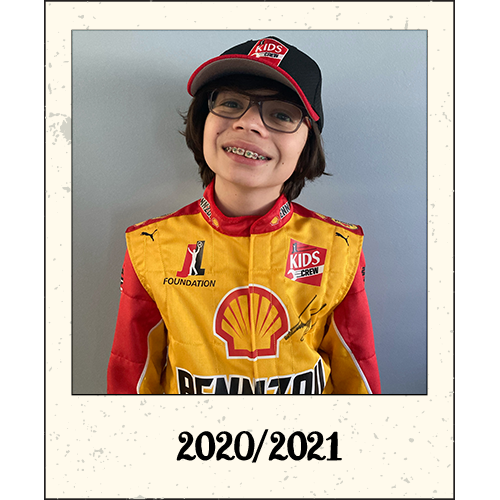 Jeffrey
Jeffrey was diagnosed with autism and ADHD at the age of two. His Dad passed away when he was nine and so Jeffrey trys to be the man of the house helping with chores and helping take care of his younger brother. Jeffrey's dream is to follow in Joey's footsteps as a NASCAR driver one day. He spent a special day at Clutch Studios with Joey where he recapped it as "one of the best days of my life besides being born!"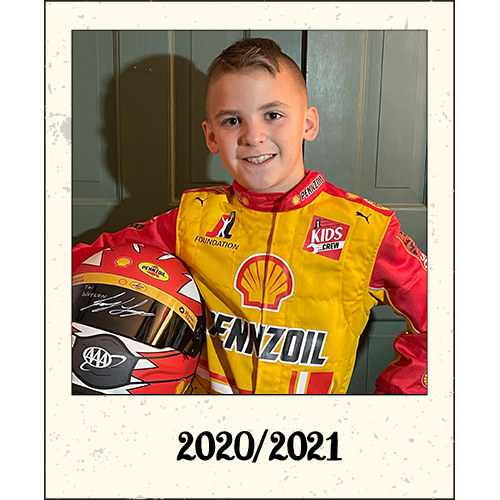 Waylon
At the young age of four, Waylon suffered a major hemorrhage following a basic tonsillectomy and was diagnosed with Qualitative Platelet Disfunction. At the age of six and with the doctor's blessing, Waylon began his own racing career and won his very first time on the track. After an accident on the playground during the off-season came the realization that he could no longer race. Waylon now focuses his attention on drumming and cheering for his favorite driver, Joey Logano. Due to COVID restrictions, he met and interacted with Joey through a special one-on-one zoom.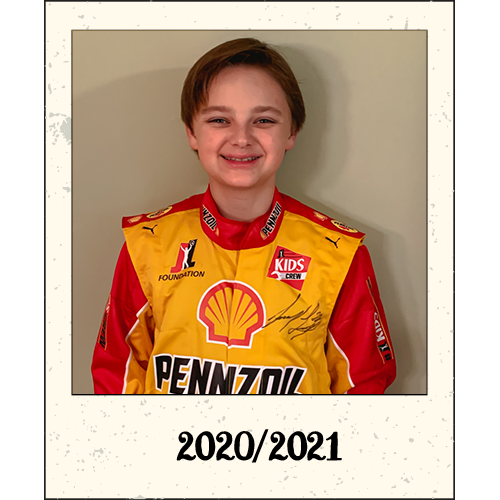 Wyatt
Wyatt was diagnosed with hereditary hearing loss at the age of five, but he doesn't let that stop him. He has a passion for cars and racing, and loves to frequent antique stores in search of anything vintage. His dream is to be an engineer when he grows up and is on track academically to do just that. Wyatt had a blast riding side by sides with Joey and spending the day at Clutch Studios with the other 2020/2021 JL Kids Crew members.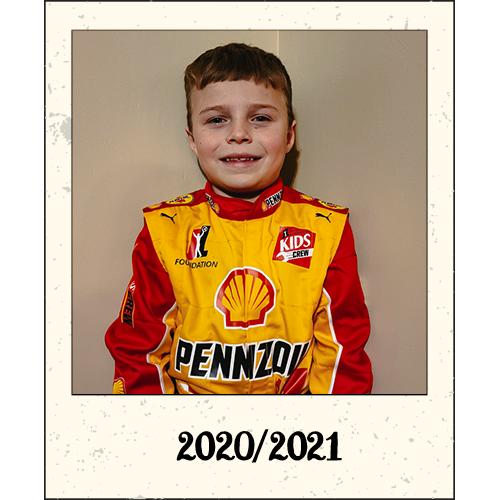 Carson
Carson F. lives with hypophosphatasia, a rare development of the bones and teeth. This abnormality weakens and softens the bones, causing skeletal abnormalities. Carson loves to watch every NASCAR race with his family to cheer on his #1 hero and role model, driver Joey Logano. He was so excited to receive his custom JL Kids Crew firesuit and meet Joey through zoom. He then also met Joey in person at a New Hampshire race and got to pass out JL hats on stage with him during a special appearance.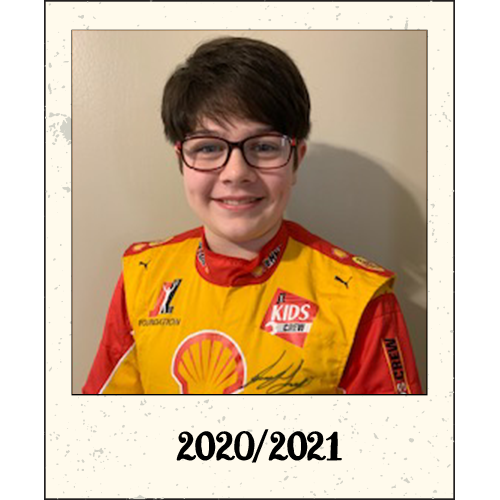 Raymond
Raymond experienced severe trauma at the beginning of his life. You would never know that meeting him now as his personality is bigger than life. Raymond found an outlet through his passion for racing. He has watched NASCAR since he was four and is now a race car driver himself in a junior league. Raymond loved meeting Joey, doing a driver's intro and experiencing a ride-along with Joey in his Factory Five truck at Clutch Studios.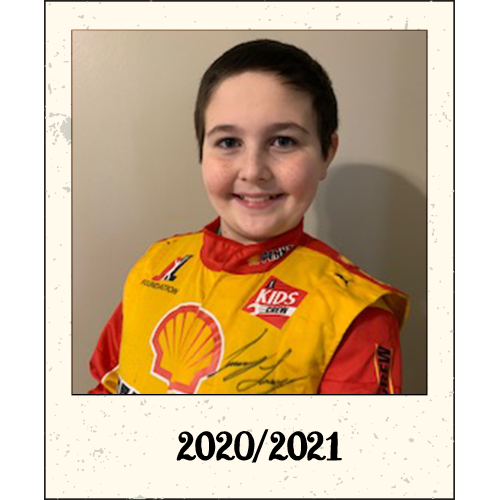 Caleb
Caleb, who is Raymond's younger brother, found himself in the same traumatic situation as Raymond at an early age. His resilience and positive demeanor has helped him recover and push forward. Caleb also loves watching NASCAR and serves as a crew member on big brother's race team. Caleb was all smiles at Clutch Studios as he expertly drove through the krazy kart obstacle course with Joey.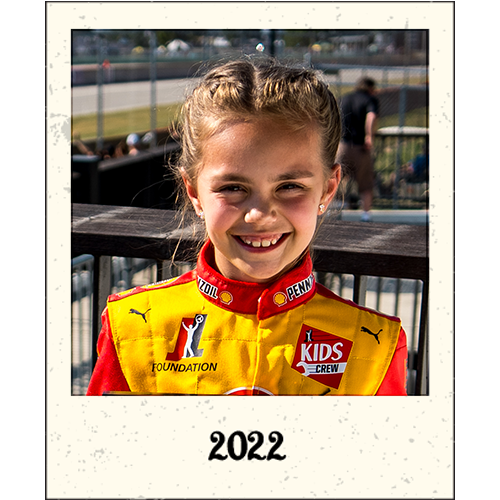 Isabella
Isabella has experienced significant bullying, to the point that she sometimes lost hope and self-love. Unfortunately she has not yet been able to escape the cruelty of these young children at school, but has found an outlet in racing during her free time. After meeting Joey at Road America, her dad built her a go-kart which she now loves to pour her time into. Isabella also finds happiness in watching Joey race and is obsessed with the number 22.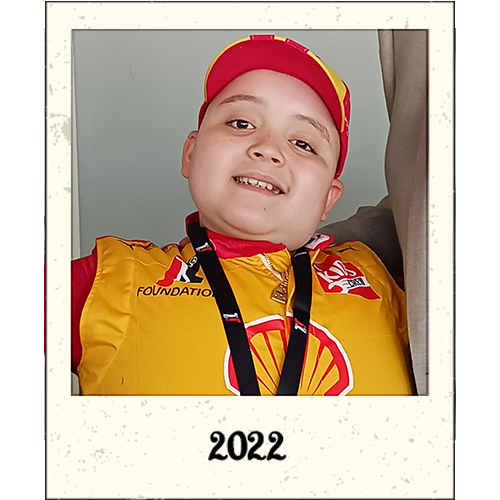 Evan
Evan was diagnosed at two years old with severe autism and was non-verbal until the age of six. He watched his first NASCAR race when Joey won the 2018 Championship and this sparked the beginning of Evan's love for the sport and his favorite driver. He works hard in school to get good grades and even volunteers as a safety monitor for younger kids during his recess period. Evan absolutely flourished at Pocono signing his name for fans alongside Joey and chatting with nearly every Cup Series driver.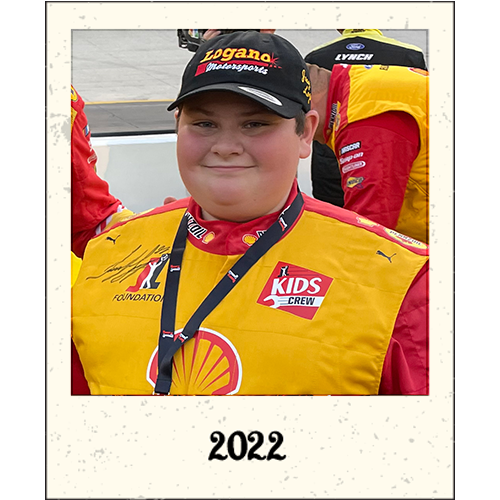 Jeremy
A fun-loving and warm kid, Jeremy is fond of video games, working on model cars and is very smart with all technology. He's very curious about motors and will happily take apart and reassemble any small machine you put in front of him. Jeremy has been through a lot of trauma and very rough early childhood, but has worked hard to overcome his obstacles. He now lives with his beloved Grandfather who he calls "Babbitt" and with whom he shared his special race day experience with at Bristol.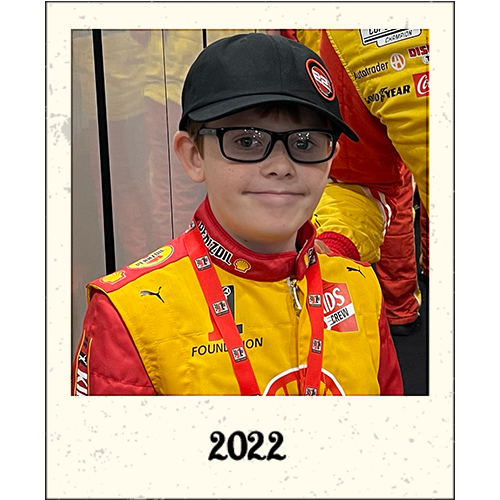 Rory
Rory's love of all things NASCAR began when he was just three years old and has helped guide him through verbal, sensory and impulsivity challenges, as well as making new friends. His teachers even created a "NASCAR Corner" in his classroom for other students to play with him and where Rory has done presentations on the history of NASCAR and his favorite driver, Joey Logano. Rory's friends and teachers cheered him on as he went to meet his idol Joey Logano at the Charlotte Roval in 2022.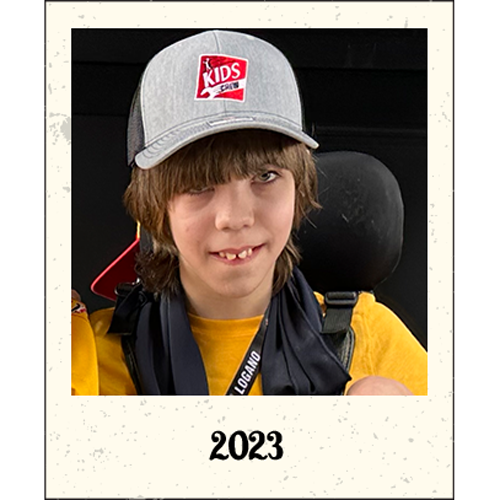 Jackson
Jackson was diagnosed with cerebral palsy at nine months old. He is unable to speak, walk, or use his right side of his body very well. He is so smart and has mastered using a speaking device and his power wheelchair. He has always loved NASCAR and roots for his favorite driver, Joey Logano #22, every weekend. Jackson was all smiles on race day at Darlington and asked Joey a ton of questions on strategy and his career.
Elias
Elias was born at 27 weeks and spent 320 days of his first year of life in the hospital. Between having issues with his lungs, a brain bleed, a heart surgery, multiple stomach surgeries resulting in two different feeding tubes, and a tracheostomy tube being placed to aid him in breathing; Elias is a thriving and rambunctious 5-year-old. Elias is a thriving and rambunctious little boy. Elias is a thriving and rambunctious little boy. He enjoyed showing Joey how "super-fast" he is and learning about the No. 22 race car at Atlanta Motor Speedway.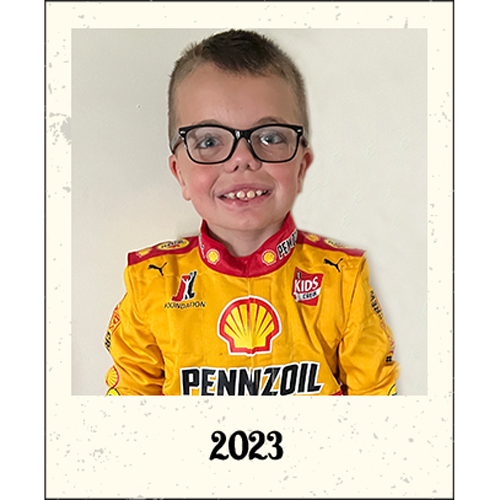 Noah
Noah lives with a rare genetic disorder called Robinow Syndromes, which has similar characteristics to Dwarfism. Due to limited mobility and height restrictions, he is not able to participate in any sports or outdoor activities without having a very difficult time. Noah always gives it his best though and enjoys spending time with his two brothers and two dogs. He also loves playing video games with friends and spending time with his family. Noah was a great buddy to Elias on race day in Atlanta and enjoyed cheering for Joey.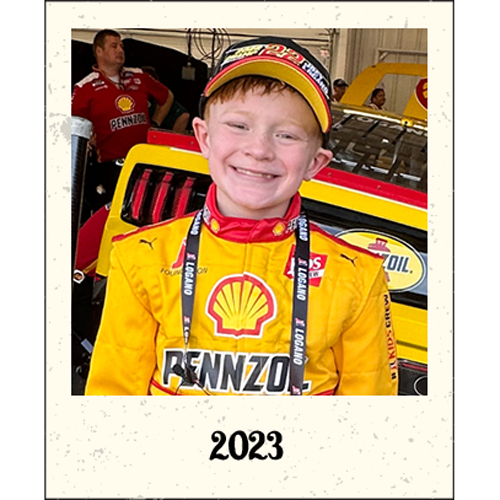 Ryden
Ryden has had a rough start. At age five, he was taken from his home in the middle of the night due to his parents' drug use. He was put into foster care until able to go live with his Grandparents. Not knowing where to "hang his hat," he turned to NASCAR. Ryden cheered for Joey before he could even pronounce "Logano." He is now living with his Grandparents and loving life. Ryden has more NASCAR cars and posters than he knows what to do with. Ryden's gratitude and excitement for his special VIP Experience at Richmond was written all over his face.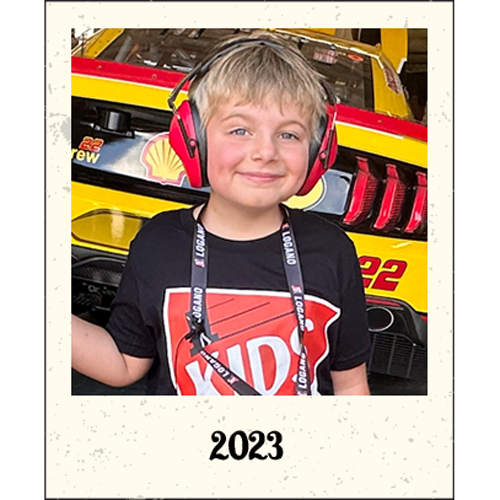 Samuel
At four months old, Samuel was diagnosed with a near fatal kidney tumor. He battled his way to remission only to be later diagnosed with an inoperable stage four brain tumor. Intense chemotherapy and brain radiation brought him to remission again. Now at six years old, the cancer battles are over but the wounds remain. Anxiety, PTSD, sensory processing disorder, and ADHD are just some of the effects he still endures. Through it all, he finds solace on "NASCAR Sundays." Sam blossomed on race day at Richmond, walking the red carpet, asking Joey the "hard questions" and making quick friends with Ryden.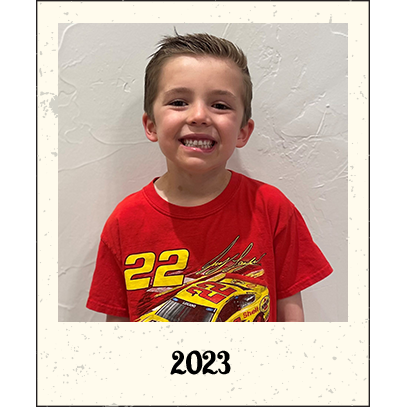 Carter
Shortly after his first birthday, sweet Carter was diagnosed with Neurofibromatosis (NF1), a genetic disorder that allows tumors to grow throughout the body. In dealing with some speech and development challenges, Carter always has a smile on his face, never gets discouraged, and approaches everything in his life with perseverance. Cheering for Joey brings him so much joy. He has been a big fan since he was three-years-old, loving red and yellow and the #22! He's a sports loving, silly, great brother, and he can't wait for his special day with Joey!
Jaxon
Jaxon was born a preemie, weighing in at a whopping 3lb. 4oz. but he made it and has become a loving, amazing little human. His only issue as a baby was severe screaming at bedtime, for which doctors couldn't find anything medically wrong. When Jaxon started school, he had many outbursts and behavioral issues, but soon found peaceful stillness with his Hot Wheels. He knows each one and has many but has always been closest to the yellow #22. Jaxon is on the cusp of Asperger's and hates loud noises, except (ironically) when it comes to NASCAR races.